Custom Material Making

Posted:
Sun Sep 13, 2009 10:12 am
Things needed:
Algodoo/Algodoo Phun Edition
A text editor
A seamless texture
Texture Finding
Decide on what material you are going to make. For this tutorial, I will make a 'stone' material.
You need to have a SEAMLESS texture, which basically means it can go over and over again without the object looking weird. You can just Google for one.
Once you have a good texture, drop it in the textures folder(My Documents -> Algodoo -> Textures). Don't forget to name it properly.
Making the material's properties
Here is the more important bit. You need to know what properties your material is going to have. The basic properties are density, friction, restitution, and refractive index. You can also add drawborders, airfrictionmult etc. These can be found in the script menu in Algodoo.
Open up the materials folder in Algodoo(Local Drive[C,D, etc.] -> Program Files -> Algodoo -> materials).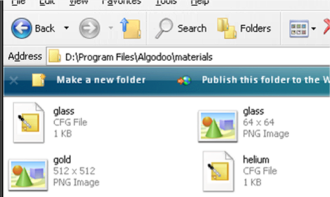 Open up your regular text editor(notepad is enough), and type in the properties of your material. This part should be self explanatory.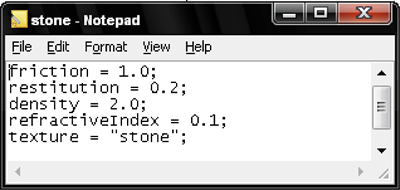 (Woops, don't forget to add a color property, [1,1,1,1] for white when you want to use just the texture's colors)
After that, save it as a .CFG file.
Making the display picture of your material
The display picture is the one that shows up in the Material menu in Algodoo.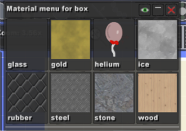 You have 2 options. Either you just copy your texture and paste it in the materials folder(it has to be of the same name as your cfg file), or you make a custom picture.
I obviously chose the 1st option, as this is much easier. I will not make custom picture option part of this tutorial(since it' pretty much the same anyway).
Testing it out
Open Algodoo/Algodoo Phun Edition. Make any object and test out your custom material.
Happy Material Making!