Post your tutorials here.

This tutorial will show you how to make multicolor tracers, tracers that change color before fading.
If you dont know what I'm talking about here's an example.
Now, before we get started, make sure you have advanced mode on.
First we start with a circle. Click on the circle, go into geometry actions and press "attach tracers". Then select the tracer and go into "tracers" and set the fade time to some low number like .2 or .3. And example is given here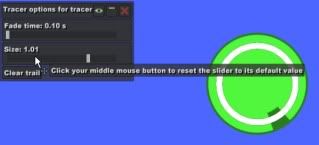 Now, we put the circle on the top layer. (To change layers quickly use Shift+scroll) After you've done that, make another tracer and set the fade time to a higher number than your first. After you've dont that put that tracer on the back layer. Note: it is very important to put it on the back layer each time!
You can keep doing this for as long as you like, to make it change different colors do one of two things:
A. Set the color of the tracer when you place it
B. After you're done, select everything by making a box around them, go into the appearance menu, and press "Random Colors" Like this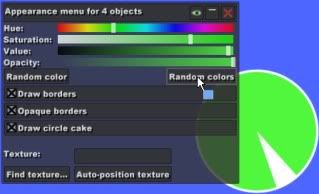 Edit: Possible applications are: Jetplane trails, car mufflers, laser guns, and much more.
Last edited by
woowoo678
on Mon Oct 25, 2010 2:51 am, edited 1 time in total.
Posts: 156
Joined: Mon Nov 30, 2009 8:14 pm
Location: Mimiga Village
---
Nice one. To be honest, wasnt expecting much when I downloaded the scene, but it impressed me, even though its so simple!

Posts: 819
Joined: Mon Aug 31, 2009 6:52 pm
Location: In A Cave, Somewhere On Mars.
---
Posts: 156
Joined: Mon Nov 30, 2009 8:14 pm
Location: Mimiga Village
---
---
Who is online
Users browsing this forum: No registered users and 1 guest